The Anatomy of Turtle Soup: Are you Team Broth or Team Turtle?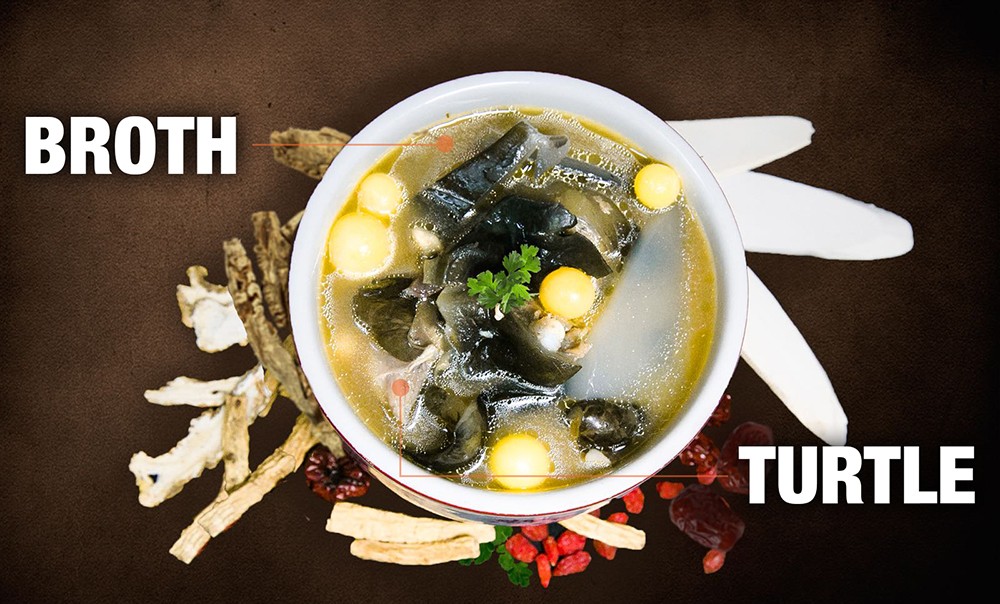 What's your favourite part of fried chicken? Do you enjoy munching on the breast of the chicken? Or maybe you favour more on the leg and thighs? Or, are you part of the people who enjoy most the crispy skin? Whichever part it may be, you love it as a whole because, well, it's fried chicken! It's the same with turtle soup. It has many parts as well. Some people favour one part over the other. Nevertheless, it's still turtle soup no matter how much you deconstruct it.
Are you Team Broth?
The broth is basically the "soup" of the dish. It's best served hot so you can really get a taste of the flavours of it. The dish is perfect for a cold weather because it gives you that warm feeling inside. One may compare the taste as to having a herbally feel to it. Others might say that it's slightly bitter with a mix of herbal wine. It all depends on how it is prepared and served.
Every sip of turtle soup is like having a spoonful of exploding flavours. Its rich taste brings a glutinous and sticky feel to the lips. Some prepare the dish with different seasonings that you wouldn't expect. You might get sweet and herbal and spicy and savoury taste all at the same time!
Are you Team Turtle?
The turtle might as well be considered as the star of the dish. Well, it is named after it in the first place. There wouldn't be turtle soup if there's no turtle. You might be curious, like everyone else is, on how the sea creature tastes like. If it's your first time, you might just try the dish out of pure curiosity.
When one thinks of turtle, one would immediately think of the water that it lives in. Perhaps your initial thought of it is scaly, hard, fishy, and salty. However, that is not the case. The turtle's meat is not hard or scally. It's actually soft and tasty. If ever you've touched a turtle, you would feel that its skin is kinda squishy as if it is jelly. Well, that's exactly how it feels.
Those are the two main parts of this decades-old dish. Its history is as rich as its taste. It's as if with every sip and bite, you're having a taste of the rich background that it holds. Not only that but it also requires hours of meticulous preparation. If your favourite restaurant serving turtle soup opens early, then you can guarantee that they have been preparing it very early as well.
Have you had a turtle soup before? Which is your favourite part? Why not get a whiff of our version of turtle soup? We assure you that you'll be coming back for more. Visit us at 39 Tai Thong Crescent today! We're open from 11AM to 9PM, Tuesdays to Sundays.