Unique Dining Experience in Singapore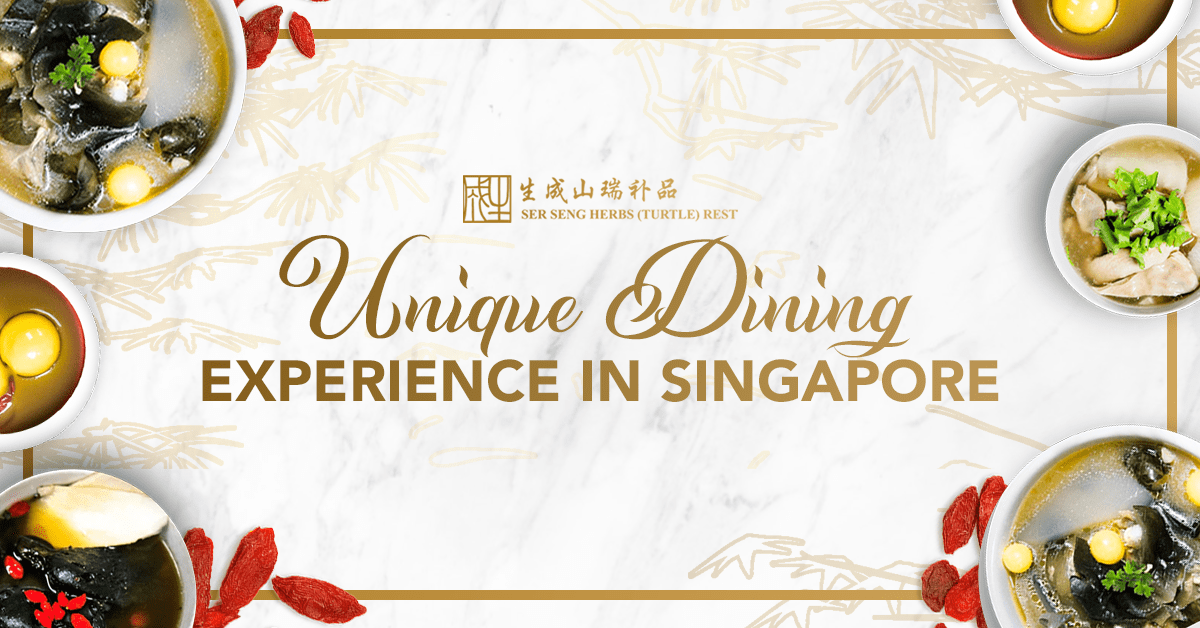 Looking for ways to spice up your next dinner out with loved ones? Lucky you, there's no running out of good options here in the city. From rare delicacies to themed restaurants to experiential dining, we are confident that Singapore is the perfect place to be when it comes to unique dining. To give you an idea, here are 7 of the most quirky and exciting restaurants to try in the city!
1. Ocean Restaurant
Take your family to a fine dining experience with over 100,000 marine animals at S.E.A. Aquarium. Walled with ceiling-to-floor glass panels, enjoy a magnificent view of the underwater while feasting on your chosen multi-course meal. Address: 22 Sentosa Gateway S.E.A Aquarium
2. Ser Seng Herbs Turtle Restaurant
Did you know that a steaming bowl of turtle soup is one of the healthiest Singaporean delicacies according to Traditional Chinese Medicine? This hearty soup is surprisingly packed with collagen and other nutrients such as protein, calcium, as well as vitamins A, B1, B2, B6, phosphorus, and zinc. Enjoy an authentic take on this rare and luxurious delicacy only at Ser Seng Herbs Turtle Restaurant! Address: 39, Tai Thong Crescent
3. Smith Marine
How about catching your own fish and dining on a floating restaurant? Smith Marine is a modern kelong between Pulau Ubin and Changi Point Ferry Terminal, serving the freshest seafood in the area. The restaurant operates its own fish farm, so you can rest assured of a "sure-catch" experience. Once you're satisfied with your catch, you can send your seafood straight to the kitchen and have it prepared the way you like it—steamed, fried, grilled, or whatever style you desire. Address: Johor Strait (Between Pulau Ubin and Changi Point Ferry Terminal)
4. Sushi Airways
If you're looking for a unique dining experience, this novelty restaurant surely makes the cut. Designed like an actual airplane cabin—with servers dressed up in flight attendant attire—Sushi Airways aims to give guests a fun eat-in-a-plane experience. With fresh ingredients flown in directly from Japan, this restaurant undoubtedly serves the most delicious airplane food there is. Address: 20a Baghdad St.
5. NOX Dine in the Dark
Dining in complete darkness is not just a unique experience but also an enlightening one. As you're forced to engage with your other four senses to enjoy a multi-course meal, you gain a deeper admiration for the visually-impaired ones, who, by the way, make up the team of NOX Dine in the Dark.
Address: 269 Beach Rd
6. And So Forth
Level up your next dinner out! And So Forth provides guests with an immersive theatre dining experience where meals and entertainment are combined. Here, both the menu and the location is kept secret until the day itself. Guests are provided with clues on how to get to the venue and once you're there, an interactive performance awaits. Sounds exciting, right?
7. The Dragon Chamber
Step away from touristy bars and check out one of Singapore's sneakiest hidden bars. The Dragon Chamber is a speakeasy-style Chinese restaurant and bar tucked away behind an unassuming fridge door. The fun starts at finding the entrance and hopping into a seemingly whole other world inside of it.
Address: 2 Circular Rd
For reservations here at Ser Seng, click the 'RESERVE NOW' tab on the top portion of our website.
Alternatively, you may also contact us at +65 6287 6341 or enquire@sersengturtlesoup.com.