Best Things to do in Singapore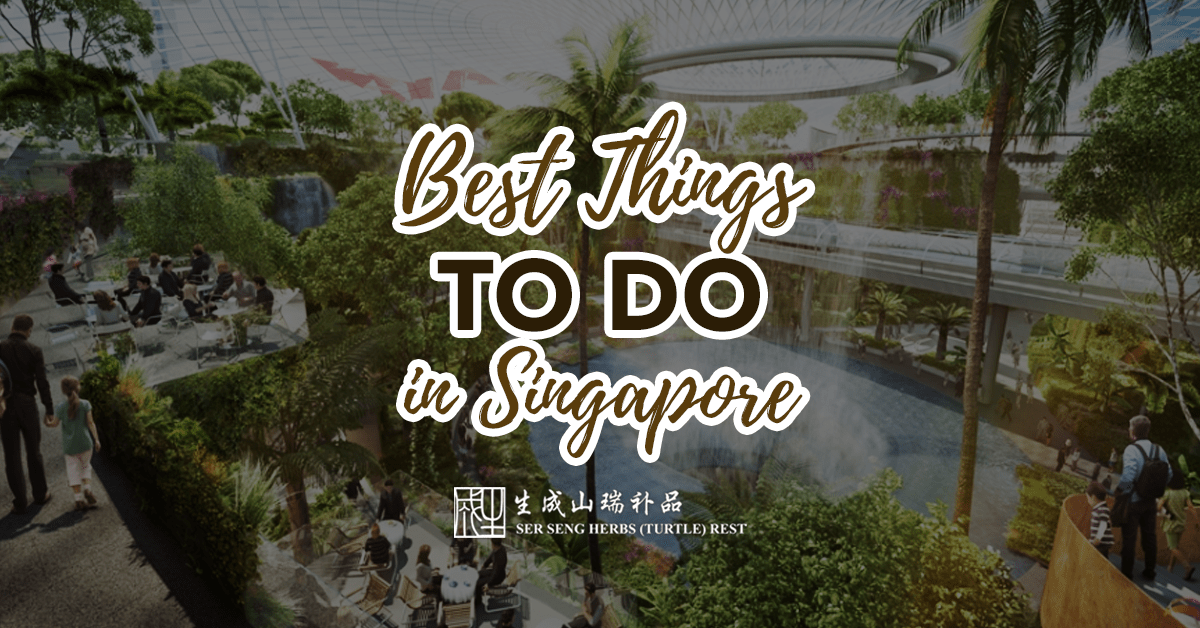 Searching for ideas on how to spend your next weekend and holidays here in Singapore? We've got you covered! We rounded up 8 unique and exciting activities you can try to make your next work break a truly unforgettable one. Whether you're looking to take your kids on a family day or your significant other on a date, we guarantee that this list is going to be helpful in many ways possible! And so, without further ado, here are 8 of the best things you can do in Singapore.
1. Take a step back in time at Pulau Ubin
Wonder what life is like before Singapore became one of the most advanced cities in the world? Take a day trip to Pulau Ubin and you'll find exactly what you're looking for! Just a 10-minute bumboat ride from Changi Point Ferry Terminal, you get to enjoy this Rural Island's rush greenery and slow-paced life.
2. Get a hot bowl of turtle soup at Ser Seng Herbs Turtle Restaurant
Treat yourself to a nice hot bowl of turtle soup. This one dates back since the dawn of Chinese cooking and has been perceived as a luxurious delicacy that contains healing properties. A recipe perfected by time and taste refined by experience, we promise to give you an unforgettable dining experience here at Ser Seng Herbs Turtle Restaurant that will keep you coming back for more!
3. Tour around the city on a Vespa sidecar
We couldn't think of a cooler way to tour around Singapore than by a vintage Vespa sidecar. What gives this activity an extra oomph is the experience of exploring the city's off the beaten tracks. If breezing down quaint alleyways by a chic scooter excites you, then this one's for you!
4. Go on an eerie adventure at the Haw Par Villa
Before Universal Studios, there was Haw Par Villa, which was built in the 1930s and is famous for its three-dimensional dioramas depicting Chinese folklore, legends, and mythologies. Head over here if you're keen to have an unforgettable cultural night filled with fascinating stories of the past. And the best thing about it? The admission is free.
5. Release your anger at The Fragment Room
Stressed from work? Frustrated with your relationship? Don't keep it bottled up! Release and express your pent-out emotions effectively without hurting yourself or anybody else. Smash things at The Fragment Room!
6. Let your minds wander at the ArtScience Museum
Step into a world of wonder and discovery! Filled with innovative and futuristic exhibits of in the topic of arts, science, culture and technology, there's surely something that will entertain every member of the family here at the ArtScience Museum.
7. Take instagrammable shots at Kampong Glam
Fancy a photoshoot session with your friends? From chic cafes to trendy boutiques to crafty street arts, you'll never run out of backdrops for a quick and easy photo session here at Kampong Glam.
8. Pull an underwater sleepover at the S.E.A. Aquarium
Have a slumber party with your friends and family at the S.E.A Aquarium. The Ocean Dreams experience allows you to camp in a tent and observe your favourite marine animals at their nocturnal state.
There you have it! We hope you have a wonderful time ticking these amusing activities off your bucket list. If you do visit us at Ser Seng, don't forget to tag us in your social media post for a chance to get featured on our accounts. See you here!