7 Chinese Soup To Keep You Healthy During The Pandemic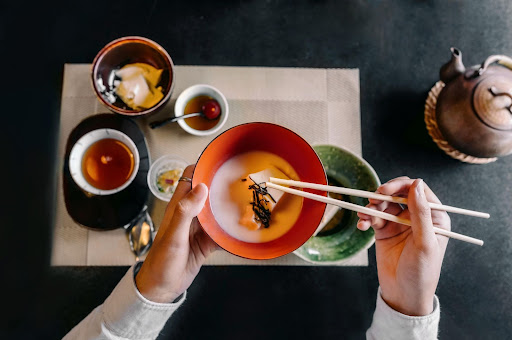 Remember the Chinese soup we usually have on hand when we are unwell and need to refuel? They contribute to our overall well-being and health throughout this pandemic. Nutrition is critical for health, particularly in the difficult times of Covid-19. The good news is that eating healthily does not mean eating bland and tasteless food. A bowl of hot soup has always been the perfect food to consume when sick. Why's that? Because soups are healthy and tasty!
This blog lists 7 Chinese soups that will help you stay healthy during the pandemic. And this brings us to say that one healthy and lip-smacking soup is the Chinese black chicken herbal soup. But worry not; the selection of healthy and delicious Chinese soups is not limited to this.

Here Are 7 Chinese Soup To Keep You Healthy During The Pandemic
1. Lotus Roots with a Blend of Peanut and Chicken Soup
Lotus roots are high in nutrients, minerals, vitamins, and fiber. But don't forget that, if cooked properly, they're also crispy and delicious. This soup is typically made with pork, but it tastes fantastic with chicken.

2. Pork Rib Soup
Don't you agree that pork bone broth is usually delicious? However, adding dried cuttlefish to your nutritious soup adds even more umami flavor. Not to mention the vitamin and mineral content of winter melon and goji berries that can be added to the soup. You can add more ingredients, such as carrots or mushrooms, to make the soup tastier and flavourful.
This soup is highly recommended for anybody looking for a tasty and nutritious soup.

3. Soup with Snow Fungus Chicken
Snow fungus boosts your immune system by increasing white blood cell activity. Cooked with dried scallops and chicken, this soup provides you with all the nutrients you need to stay healthy. Not to mention the ease with which this soup may be prepared!

4. Soup with Sweet Corn, Walnuts, Carrots, and Pork
We all know that pork, Chinese walnuts, and wolfberries are the main ingredients in practically every Chinese soup. However, sweet corn is the star of this recipe. It adds crunch and sweetness to the soup, elevating it above regular Chinese soup. Simple, yet effective.

5. Watercress Soup
Watercress is high in vitamin C, a vital mineral for the immune system. The combination of maize, carrot, onion, tomato, apricot kernel, dates, and magnificent wolfberries results in a flavorful soup.

6. Herbal Chicken Soup with a Blend of Mushrooms
This soup has one of the easiest recipes out of all. The simplest soup to make is a basic chicken soup. Simply add whatever ingredients you like along with the main ingredients of this soup: chicken and mushrooms, and simmer it for a while. It tastes excellent and is healthy.

7. Chinese Black Chicken Soup
This soup may be described in four adjectives: fragrant, flavorsome, mild, and somewhat sweet. This is all thanks to the combination of the tastes created by combining dang shen, yu zhu, huai shan, and various additional spices. To make it even more intriguing, the black chicken adds a dark hue and nutrients to the soup. And one of the best places to have this black chicken soup is Ser Seng Group Turtle Soup.

So, here's a list of some flavorsome and healthy soups you can savor during the pandemic to stay on top of your health. Our personal favorite is the black chicken soup!